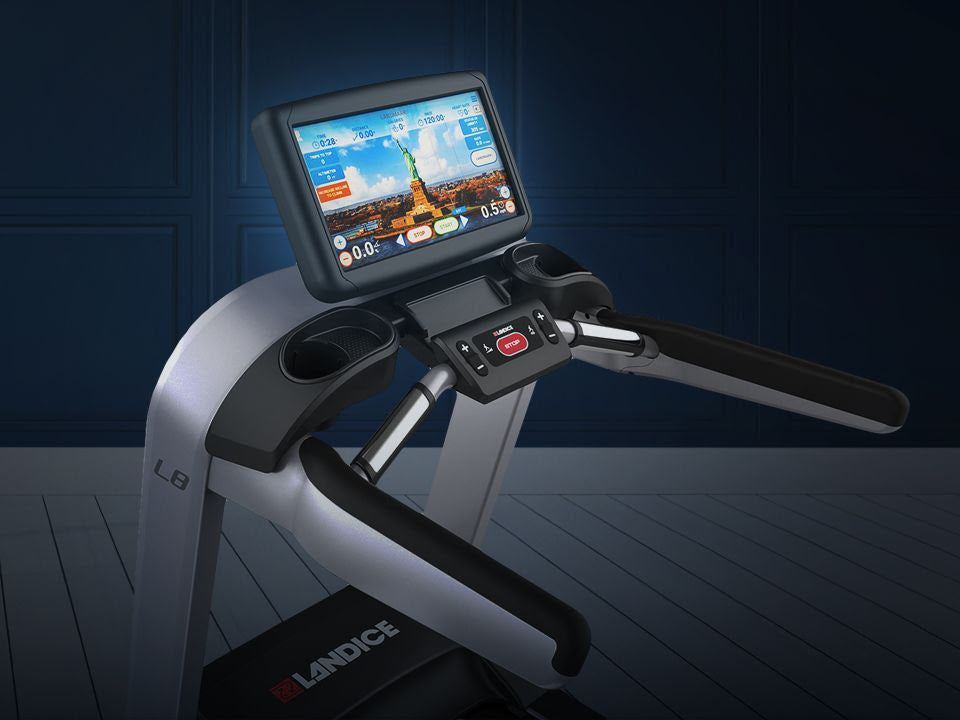 L-SERIES CONSOLE UNVEILING
Landice is thrilled to announce the upcoming release of a exhilarating touchscreen console, and we couldn't be more excited to share this news with you, our valued distributor.  With your support and dedication, we are confident that this product will make a significant impact on your upcoming season.
The new Landice
Elite
console is a 15.6" touchscreen and represents a substantial leap forward when it comes to user engagement. Designed to provide the ultimate user experience, it combines cutting-edge technology with sleek aesthetics, creating a product that will captivate customers and elevate their workout experiences.
Immersive Touchscreen Interface:
Dive into every workout with a commercial grade 15.6" crystal-clear user- friendly interface.  
App Integration:
Stay entertained and motivated with access to your favorite apps, including Netflix, Hulu, Peloton, Disney+, and more.  Stream your workout playlist from Amazon Music, Pandora, or Spotify.  All while staying connected on social media.  The Landice
Elite
console turns the treadmill into an entertainment hub.
Versatile Workout:
Achieve fitness goals with 42 diverse workout programs, including virtual runs, HIIT, heart rate control and custom routines.  These customizable and diverse workouts ensure the user is always engaged.
Track Your Progress:

 
Track each fitness journey with ease using the comprehensive statistics. Monitor heart rate, view workout progress, or take the landmark challenge.  It's the perfect tool for goal-oriented fitness enthusiasts.
Personalization and Connectivity:
Individualize with five user profiles, customizable settings and workout journal.  Stay connected to fitness communities by pushing workout data to third-party apps like Strava and Map My Fitness.  
The
Elite
will be available to ship around October 30th for L7 and L8 residential treadmills.  Soon after this we'd like to invite you into our showrooms to try it out for yourself! 
Learn more here:
See nearest showroom for special savings.